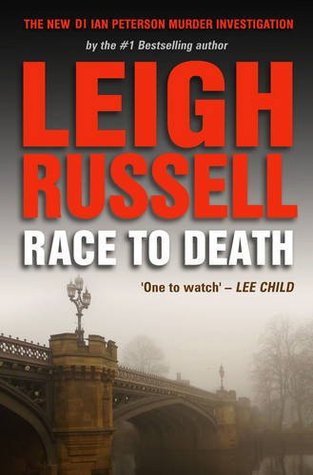 Title: Race to Death
Author: Leigh Russell
Publisher: No Exit Press
First Published: September 2014
Blurb:
When a man plummets to his death from a balcony at York races, his wife and brother become suspects in a murder enquiry. Meanwhile Richard is being stalked by a killer issuing death threats. Richard is reluctant to go to the police, for fear his own dark secret will be exposed. Newly promoted Detective Inspector Ian Peterson is investigating the death at the races when a woman's body is discovered. Shortly after that, Richard is killed. With three murders and no suspect, the investigation seems to be going backwards. Ian is determined to discover who is responsible.
(From Goodreads, July 2014).  
Review:
I received 'Race to Death' from Real Readers and asked to provide an honest review. This is the third Leigh Russel novel I have read, and the first DI Ian Peterson novel. I have to admit it was nice to get away from Geraldine Steel, Leigh Russel's original series, however, the writing style is too similar across all the novels and I am beginning to lose interest in this authors novels.
I enjoy psychological thrillers, and now and again a good murder mystery. However, I like a novel where you are continually guessing who is involved in the deaths, yet this novel I felt you did not get this aspect. There was not enough clues given throughout this book and I felt that I was given information that could not and did not lead me to any answers.
Leigh Russel has fantastic ideas but the writing style is not my 'cup of tea'. There is just something 'missing' and this being the third novel I have read by this author I have to say those who enjoy interesting ideas over more in depth characters and story lines, this may be an author you enjoy. If character development is important then not so much.
This is a personal view, and I am not an avid murder mystery fan. Therefore, I do not have a wide range of authors to compare with in this genre.
For me this is a 2.5 out of 5.